The Bobby Franks Murder

Late in the day on May 22, 1924, 14-year-old Bobbie Franks left the Harvard School for his home a few blocks away. His distant cousin, and neighbor in the wealthy Hyde Park area, Richard "Dickie" Loeb, and a companion, Nathan "Babe" Leopold, Jr., drove alongside and offered him a ride. They suggested that Bobby join them for some tennis at the Loeb mansion, an activity they had participated in on many a previous occasion (Two other youngsters had been chosen by Loeb & Leopold as potential victims but they either were absent from school that day or had left before the predators arrived). Once inside the car, however, Bobby was grabbed from behind and bludgeoned with a taped steel chisel. After being knocked unconscious a rag was stuffed down his throat to suffocate him. Franks was stripped of his clothes, wrapped up in a blanket and under cover of night, was dumped into a culvert near Wolf Lake (which was located by Hal Higdon as being where 118th. street would be if it extended that far). Acid was poured over Franks' face and "privates" to destroy his identity and the fact of his Jewishness (circumcision). The two teenaged killers then burned what clothes they could, buried the rest and removed the blood stains from the car they had rented. They finished the evening playing cards. The next day the two murderers tried to collect on a bogus $10,000 ransom plot as a test of their cunning but were foiled when the victim's body was unexpectedly discovered.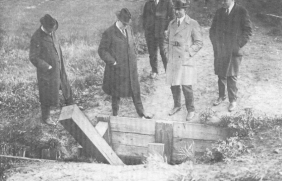 The Culvert (Chicago Tribune)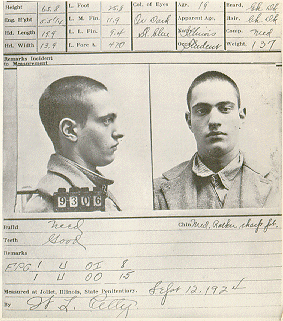 Leopold's mug shot
Nathan Leopold, with a reputed IQ near 210, was the son of a wealthy can manufacturer. He had graduated from the University of Chicago at age 18. His partner in crime, intellectualism and a strange homosexual "compact", was the equally arrogant and self-centered, but often charming and sociable, Richard Loeb, son of a wealthy Sears, Roebuck executive. Richard was intellectually and emotionally inferior to Babe, having only the IQ of a genius: 160, but was more athletic and sociable. Richard had nevertheless graduated from the University of Michigan at the age of 17. Because of his good looks, money and social standing, Dickie Loeb had many sexual opportunities with girls which he took advantage of but was somewhat ambivalent in the matter of sexuality. His interest in life lay in drinking (from age 15) and exercising his penchant for petty criminal behavior. Leopold, on the other hand, was said not to be particularly interested in criminal behavior, but, apparently, was not necessarily against it. He was interested in Richard, however, and was willing to do whatever the somewhat charismatic Loeb wanted him to do. For their mutual satisfaction, therefore, they formed an agreement whereby Loeb would grant Leopold certain strange sexual favors in return for assistance with his criminal activities. Together they had plotted a theft and murder of a wealthy neighbor which had gone awry when their car broke down enroute to the intended victim's house. The murder of the Franks boy had been in the works for about 6 months or more and may have had it's beginnings at the Loeb summer home near Charlevoix, Michigan (Leopold had visited his friend there many times, and while there, had discovered the habitat of the Kirkland Warbler, the discovery of which thrills ornithologists to this day). In fact they had rehearsed their plan three times before actually attempting it. They had established their own address at a local hotel in order to rent a car (One of the boys had carried a suitcase full of books into the hotel room as part of their ruse to seem like residents there. The suitcase disappeared before they could return to claim it), they had purchased hydrochloric acid, gotten a chisel and taped it, located the dumping place, composed the ransom note, except for the addressee which they saved until the victim became known to them, and had timed local trains as part of their ransom money pick up plan.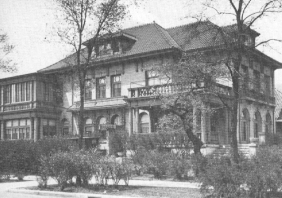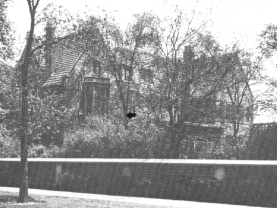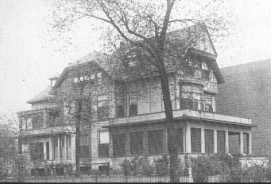 The Franks' Mansion The Loeb Mansion The Leopold Mansion


The two schemers planned and executed the murder as an "intellectual experience", somewhat like pinning bugs to a display they said, to prove to themselves that they could commit the "perfect murder". The crime was the inevitable outcome of their amoral life philosophy. Because of his incredible intellect, social pampering, and deep resentment toward God (resulting in the atheistic belief in no god other than himself) Leopold in particular had adopted Nietzke's "superman" mythology popular at that time in intellectual circles. Richard, on the other hand, was simply and pathelogically self-centered. Conventional morality had no place in his scheme of things. Their perfect murder began to unravel with the discovery of Leopold's unique glasses which he had accidently dropped near the culvert. The police traced the glasses back to Leopold. Upon questioning, both boys confessed when their alibis were found to be inconsistent with one another and with the facts of the case. Their parents secured the famous lawyer, Clarence Darrow, who being a great foe of capital punishment, thought the publicity of the case would help further his cause. He was able to win them a life sentence when it seemed certain the two would hang, a fact that brought him almost as much noteriety as the "Scopes Monkey Trial". The crime was especially difficult for the public to understand given the education, social standing, intelligence and promise of the two offenders, and considering the lack of a conventional motive. Psychiatrists eventually concluded that the two acting apart would never have commited the murder but together there was generated an evil synergy that compelled them to kill (which sounds very much like the conclusion drawn by Perry Smith and Dick Hickock's psychiatrists, and in several important ways, the two relationships were comparable).

In 1956 a classmate of the two boys, Meyer Levin, who had also been a reporter on the case, wrote a fictionalized account of the incident, similar to Theodore Dreiser's An American Tragedy and Truman Capote's In Cold Blood, called Compulsion (Simon & Schuster Ltd., 1956; Carroll & Graf Publishers Inc., 1996). The book received some critical acclaim and generated a considerable amount of public sympathy for Nathan Leopold as the "submissive slave"of the more criminally minded Loeb, through it's detailed psychological analysis of the two killers. The book also inspired an award-winning film, in 1959, directed by Richard Fleischer and starring Dean Stockwell, Bradford Dillman, and Orson Welles (as Clarence Darrow). The book was reprinted in 1996. The movie was remade in 1992 as "Swoon," directed by Tom Kalin, with Daniel Schlachet, Craig Chester, and Robert Read. Two other plays,"Rope" by Hamilton in 1929, and "Never the Sinner", in 1998, by John Logan, have been produced. In his l975 book about the crime of the century, Hal Higdon shares a link to the number "118". The author tells how Bobby Franks' body was found, and the location of it: "Manke's walk brought him along a path that paralleled a channel that connected Wolf Lake with shallower Hyde Lake to the west. A single track belonging to the Pennsylvania Railroad crossed the channel at about what would have been 118th Street, had that street extended that far". Franks had been tossed into the culvert that connected the two sides of the channel.

On Jan. 28, 1936, Loeb was murdered by a fellow inmate in Illinois' Stateville Penitentiary. James Day, Loeb's cellmate, attacked him from behind cutting his throat with a razor blade and lacerating him in 50 plus other places. Loeb stumbled out of the showers and shortly died on the prison operating table with 7 physicians feverishly trying to stem his loss of blood. Day claimed he was provoked by a homosexual advance made against him by Loeb, a highly unlikely senario given the facts of the attack, but he was acquitted at trial. Nathan Leopold became a model prisoner, learned many more languages, and taught a school for inmaates. He was paroled in 1958, after serving 33 years of his "life + 99 years" sentence, and became a charity hospital technician in Puerto Rico. Thirteen years later he died of a heart attack, the result of diabetic complications, at the age of 66. Intellectuals and capital punishment foes have been quick to point out Leopold's rehabilitation and accomplishments as evidence of the need to abolish the death penalty.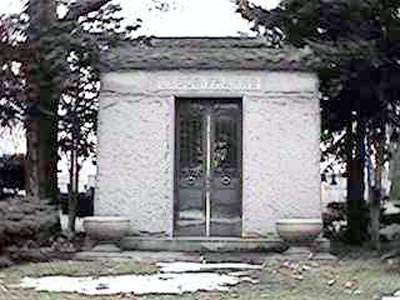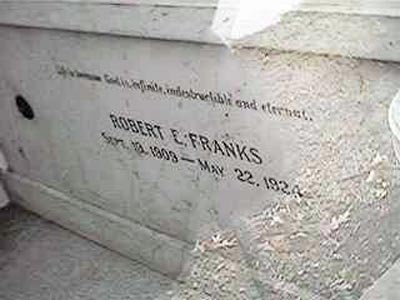 The tomb of Bobby Franks, in the Rose Hill Cemetary, Chicago, Illinois